Post by Guinevère on Dec 27, 2011 23:33:04 GMT -5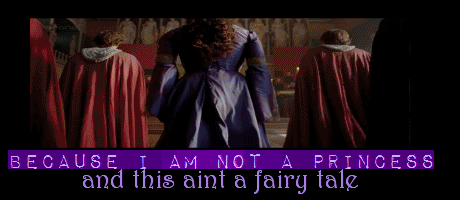 Guinevère liked to pretend that in this moment, standing out side the closed door of the grand hall that her father was standing beside her. That if she looked over behind her, he would be waiting to tell her how proud that he was of her. She felt her handmaiden pull her hair back and she reached up to hold the woman's hand for a moment, almost tightly. Nervous about being before that many people. Finally, Guinevère was able to let go, and walked toward the doors.

They opened and she began her walk down the red carpet that would lead her to her husband of a day. After this moment she would not just be his wife, but his queen. Seeing Arthur at the end of her walkway--looking proud and so very handsome in the sunlight--was what gave her the confidence to talk forward and past the rows and rows and rows of people. Making sure to take one step at a time for fear of falling, she made her way down the carpet to the little steps before him. A small pillow waiting there to rest her knees on.

As she knelt there, she bowed her head in the last bow that she would ever had to give him, before looking up to his face, taking a few deep calming breaths and smiling softly at him. Oh Arthur, she thought, how very proud I am of you. Of all the great things he had done and would still do. And for some reason, he had chosen her to stand by his side and let her help him.

As he spoke, she lowered her eyes and tried to stay still and not faint in this moment. "By the scared laws bested in me," He began and she knew that he was going to be sitting the crown on her soon. She was excited to be his wife but feared she would fail as his queen. She knew only know the world from a servant's view. "I crown you," Guinevère felt the weight of the crown--that had once been his mothers, before he had the gems replaced with purples ones for her--be placed on her head. "Guinevère, Queen of Camelot."

Guinevère looked up at him, and smiled again, as he held his hands down to her to help her rise up. Taking them, and walking up the few steps she could not look from his face. She felt such joy in the moment, but more for being his wife! Finally! After waiting for so many years and over coming so many things between them she was his wife! His queen!

Arthur must of felt the same for they broke another tradition there, when they moved forward and shared a kiss. It was light, and she almost pulled away but then let it linger for just another moment. When she pulled away, and they both turned to face the crowd she knew this was the first moment of the rest of their lives. As husband and wife. King and his queen. Together. Nothing more would ever come between them.

Her eyes found Merlin's in the half second of silence, and she had to fight a grin at how dashing he looked in his new clothes. And her brother besides him, who had given her away as a bride just yesterday. With Leon, a man she'd known since he was in knee pants, and had been a friend even when it wasn't allowed. Gwaine the brother of her heart, and had always called her princess. And Percival the gentlest yet strongest of them all, perhaps the easiest too see the crowd, and easiest to welcome into her heart. They were the safest place for her eyes to look right now. They were her family. These men were her brothers. Not because they were friends of Arthur, but because they were friends of her's. She loved them all.



"Long live the queen."


Her hand gripped Arthur's tighter, as the room began to repeat his words, in and event chant. Her eyes moved from the home-made family to the room, knowing that while Morgana might had brought darkness to the land, Arthur was bringing it back. And she would do whatever she could to aid him. To help him.