Post by Caitrin de Archer on Feb 9, 2013 18:25:02 GMT -5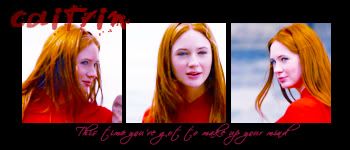 Caitrin Aubert pulled her cloak around her, and narrowly missed colliding into the rush of soldiers, and people who were swarming around the streets of Camelot. There was an air of organised chaos, but she wasn't getting too irritated at the fact she had been walked into at least five times from her way up from the entrance to the city. She had walked here with a guard, given the fact she wasn't allowing herself to ride at the moment; her condition prevented it. She knew she was only four months pregnant, but still; she wasn't risking anything and would not forgive herself if anything happened to the baby. Her children were more than toddlers now, Esmae and Arthur were nearly four years old, and Alfie was only just coming up to being three. It felt strange to think she was going to be starting the cycle again with a new baby; she desperately wanted another daughter. She and Griff had made her condition public a few weeks ago, so it was common news now, though nothing too hyped as they already had three children. Of course they were thrilled, but it was hardly going to be met with the same enthusiasm as with their first child.

Her arm wrapped around her stomach, and she continued upon her way. Another solider collided with her side, but she managed to keep her balance. Jesu, she had not seen the place so busy in years. No one really made much accommodation for a noblewoman passing through on their own; everyone had their own agenda today, and Caitrin appreciated that. She would never know what it was like to ride off to war, and neither would she ever want to. Sighing softly, she carried on walking, trying to keep her spirits high. Now she was quite glad she had decided against bringing any of her children with her, she knew that Arthur liked them well enough, but she didn't want to upset any of them with the talk of war, and in Camelot it would be inevitable for them, even at their young age, to ask questions. Of course she would tell them what was happening, but she didn't want them to be overwhelmed by it, especially seeing as their Uncle would be playing a part in the battle.

As a mother of three, she had so much to think about, and worry about, but for now, she was taking a bit of time out for a duty of friendship. Arthur Pendragon had been a close friend of hers since she had arrived in Camelot, and she had even named her eldest son in his honour. It was not something which Caitrin had done without thought, and she was sure Arthur had appreciated the gesture, even if her husband had been a little apprehensive about it at first. Eventually, Caitrin found herself within the castle, and it felt like a complete change from the chaos of the outside world. It felt slightly surreal, but her feet took her to the door of Arthur's chambers, and she knocked on softly, not finding a guard nearby to allow her entrance. Of course she did not enter right away, as she had no idea whether he would be with the Queen or not. Instead, she just slipped her cloak from around the shoulders of her ruby red dress, which held tight around her rounding belly, and waited patiently for an answer.
Tag: King Arthur Pendragon
Timeline: Before the battle of Camlann
Location: Arthur's chambers
Time of Day: Mid-afternoon[/size]