Post by Caitrin de Archer on Apr 11, 2012 12:59:00 GMT -5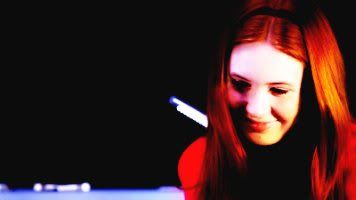 Caitrin Aubert tapped her watch as she started to fiddle about with her somewhat unflattering uniform. This was the problem in working in a care home, the uniform never fit exactly how she wanted it to. Her swelling belly was starting to press against the fabric, and she'd eventually have to sort that when she had a bit of money. That was another thing to worry about at her next payday then wasn't it? She finished off her cup of tea, and set it down by the sink in the staff room before making her way back out into the main area of the home. Though she felt like her real calling had been as a nurse in a hospital, but there had been no jobs, and she was enjoying looking after the people here. The home specialised as hospice care for those who were suffering with Cancer, so the job was always a little sad in a way, but she just had to get on with it, and try to make everything fine for those who were here.

She only had a few more hours left of her shift anyway, and then hopefully Griff would have cooked something for dinner; she could live in hope. Caitrin was only a newlywed, and she was only just a few months pregnant. She'd only graduated a few years ago, so it was all happening quite quickly really and it was slightly overwhelming in some ways. On top of all of that, and the fact that she hadn't been in this job for very long, it was all a lot to take in. Running her hand through her hair, Caitrin made her way to the main sitting room in the home, where most of the people who were staying here tended to be during the day. Usually her duties just involved seeing to the patients needs, seeing that they were comfortable and getting them whatever they needed.

After seeing to a few of the patients, including one lovely old woman called Tina who always asked her how she was, what with the baby on the way. She always offered her advice on what Caitrin should expect throughout her pregnancy, and with what she would need. Caitrin always just sat and talked with her for a while, she never seemed to get many guests after all. As Caitrin left the woman, she looked around the room to see if anyone needed her immediate attention before she left the room to see to her other duties. As she moved out into the hallway, Caitrin noticed a woman looking rather lost. It wasn't unusual, visitors were often a little unsure of what to do. "Hello, can I help you?" Caitrin asked the young woman with a smile on her lips, brushing some hair behind her ear.
Tags: Elenora
Location: Modern AU!
What if: Caitrin and Nora met up in the modern world?