Post by Catalina Regalis on Dec 23, 2011 14:26:44 GMT -5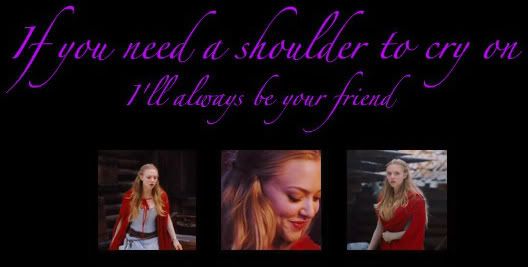 "I am sure your worries are for naught dear one." Aldriv said softly, placing a gentle hand on his niece's shoulder. Catalina was not the sort to worry in vain but it had been days since she had seen her dear friend Freya and she worried for her. Freya had been traveling with the druids for a while now and Catalina had found a very good friend in the quiet young woman.

It wasn't like Freya to stay away for days at a time and so Catalina brought her worries to her Uncle, hoping that perhaps he would allow her to go out and look for her. Of course Aldriv didn't wish for Catalina to go off on her own and so he chose to try and ease her worries instead. It helped to a small degree but it didn't remove the fear altogether. Sighing softly, Catalina nodded and left her Uncle alone, choosing to head back to the campfire that burned brightly. It was her job to tend the fire and keep it going and she was doing well but she was beginning to run out of kindling. Maybe Cat should have pushed harder for someone to go and search for Freya. They rarely stayed in one place for very long and Catalina didn't to chance having to leave Freya behind.

No, she wouldn't let that happen. Her Uncle may be the elder and thus was in charge of them all but she wouldn't let her friend get left behind. Cat was doing it again… She was thinking too far ahead and worrying too much. Poking at the fire idly with a long stick, Catalina sighed and pondered on things.

When about twenty minutes passed, the young woman had had enough waiting. She was somewhat impatient, she admitted but there was good reason. No, they weren't near Camelot but that didn't meant they weren't in danger. There were those that would happily catch druids or other magic-users in order to get a nice sized reward from Uther, didn't matter whether they were from his Kingdom or not. Freya was a sweet girl who wouldn't hurt anyone, she was an innocent like Catalina.

Getting to her feet, Catalina headed away from the encampment, deciding that she would look around for her friend. She halted when she heard her name not far off and looked behind her, seeing Aldriv walking over with a bit of a disapproving look on his face. "You know I dislike you going off on your own." His arms were crossed as he spoke, showing just how he felt, he knew exactly what she was doing. "I know Uncle but don't worry so much, I am simply getting more wood to feed the fire." She offered him a grin, hoping that he would buy it.

He didn't…

"Catalina.." Amazing how he could put so much guilt into one word. He was a master at that. "Uncle, I won't go far I promise." He was far too protective of her, he needed to ease up some but he wouldn't. She knew that. He wouldn't because of her mother. After all these years he still felt guilty that he wasn't able to protect his younger sister during the Great Purge and thus took it upon himself to keep her children safe. It had been easy enough with Samara since she had always been such a calm and quiet young girl, not the sort to get herself into trouble at all. Catalina was the complete opposite. Trouble seemed to find her and if it didn't find her, she'd go out looking for it. She was so much like her mother and that was what worried Aldriv.

"I worry for her Uncle. Please.." Cat pleaded and for once it worked. He sighed, semi-defeated and nodded. "Alright but do not take long. Return as soon as you can." It was late in the afternoon and so she had plenty of time before night fell. "Thank you Uncle." She said with a smile before running off into the woods to try and find her friend.

"Freya!" She called out, hoping that Freya was somewhere.
-----------------------------------
Tags; Freya
Word Count; 691
Lyrics; "Here I Am" Leona Lewis
Time-frame; Late Afternoon - Before "The Dragon's Call"