Post by aslinndraconius on May 31, 2019 17:20:45 GMT -5
Aslynn Draconius
Age: 18
Sex: female
Class: Nobility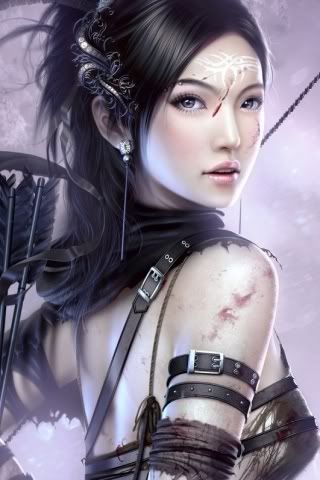 Appearance: Regal in appearance, cleanliness if next to godliness. Aslynn's
willowy appearance suggests that she was built for ~Women's work~ Namely to
marry and bear heirs to her father's estate. She is tall in statue, more so
then most in these lands. Having been born abroad in her mothers homeland She
is taller, standing at 5'10. With a mixture of roman blood in her veins with
that of her Saxon father. Long lustrous dark brown, almost black locks frame her
full face, along with a pair of Sapphire eyes full of intelligence. Dressed in
rich finery, from Italian satin, and wools. A cast of the deepest and finest
colors, she likes to wear navy blue a great deal for it brings out her eyes.
Though she often dresses simpler hues so not to draw attention to her, though
she sterns clear of dull, plain colors that are norm for servants. (There is a
different side to Aslinn that no one of court has ever seen…shhhhhhhhh)Pic for
you)
Character: Aslinn is a young woman of station. She understands her place in her
family unit and what is expected of her. She is willful at times when dealing
with her father. But that is easily rendered, being daddy's little girl. She
is use to getting her own way, most of the time. When dealing with her mother it
is an entirely different story, and were most of the punishments are handed out.
She is a quick thinking, and surprising agile for being a lady of
court.(hmmmmm…) She was raised with several brothers, and therefore received
some training in the use of weapons, ( Daddy with faint if he knew) her weapon
of choice the bow. She enjoys hunting, more so because it is forbidden for woman
to accompany men, something about bad luck. She is not for the killing of
animals, but dinner is best when caught fresh. She trusts those of higher
station, namely because there is little reason not to. Aslynn has yet to
understand just how the world works outside of court. She does seem to stretch
the limits of her limitations. Often leading to getting her into trouble. Her
father calls her audacious, her mother calls her reckless.
Strengths and Weaknesses:
· Intelligent
· Strong willed
· Kind hearted
· Free-spirited
· Tends not to think before she leaps
· A little to proud (comes with the station)
· Stubborn
· Willful (her mother's work)
Magic Abilities: none yet…unsure about magic. Father no so keen on the use of
magic.
Weaponry Skills: Has her father's army, does that count. (Smirks) She likes to
use bows…and the continently placed hidden dagger.
Character History:
Born to an Anglo-Saxon Noble father and a Roman-Gaul Mother. Aslinn has always
lived abroad. It was only in the last year that she came to live in Mercia with
her entire family. Her father having summed her mother, which calls for the
entire family to uproot itself and travel across land and sea to be at his side.
The Draconis family is far from a family of good mortal and valves. They had had
their share of dark days. It was only in the last 30 years they managed to get
their name cleared of pass insult.
Aslinn's great-great-great, possibly even great grandfather was a hunter. At
the time the lands about Mercia were in great turmoil. Some believe it to be
myth while records hidden away tell the true story of how a band of hunters,
once knights of an old code, were called upon to rid the land of creatures known
as darastrix in their own tongue, and dragons in the human. These old knights
stride from the old ways. The honor that once held them in great esteem with
these creatures, or so the books say. These books were lost for a period of
three hundred years. In that time a great darkness fell upon the land. The lands
were plagued with countless wars. Brother against brother, neighbor against
neighbor, blood against blood.
Not until the last 100 years has man seen the error of his ways. Thought it has
been hard to enlighten those that would see the plagues continue, by those that
wished to doom man to darkness so they could gain more power, or keep what power
they had. Redemption has been sought over a great many years. Only recently have
the lands of Mercia come out of the darkest.
Aslinn Celestine Ambros Draconis was born under a red moon, an autumn moon in
fact. The omen to her father that she was special, to her mother, whom always
listened to her seer that Aslinn, was an omen. Nothing really came of what the
seer had told her mother for one wrong prediction and the seer of beheaded. The
Draconis family lived namely aboard when their children were old enough to learn
the ways of court life. Lord Sebastian Draconis found that Mercia was not the
place for them to do so. He ordered them to their family across the ocean
Northeastern direction, to his wife's people. He figured this would be good
for his only daughter. Being with family, though it pained him to he apart from
any of them. He knew it to be for the best.
Aslinn would say that she suffered under her mother's watch. Under her
watchful eye, or eyes, Aslinn was never able to do anything other then that
becoming of a lady of a noble family. One day with hopes of her being married
off. Which Aslinn made most certain that it was always beyond the present if
ever. This often caused great difficulty in dealing with her mother. Aslinn was
seen as willful and disobedient at times. Which from time to time left her lock
in the tower of her grandparent's castle.
It was not that Aslinn was a terrible child. She was pleasant when she had to
be, nice when she wanted to be, and terrible only in her mother's presence.
Being brought up with several brothers it was not hard for her to get into even
more trouble, thanks to them. The Draconis boys, numbering at four were the
apples of her mother's eyes. The eldest were several years older then Aslinn,
and one brother a year younger. Marcus the second oldest was killed during the
Purge. Aslinn felt his lost and mourned in private, unlike her mother who saw
that she grieved publicly. She wanted all to know what lost she suffered. And
suffered she did. It was during this year that Aslinn's father called his
family back to Mercia. To a quaint countryside of Mercia, something that Aslinn
was not ready for. Court life was indeed very different then in her mother's
homeland. It took some getting use to. But she found things to occupy her free
time with. Her brothers teaching her how to properly shot a bow and arrow, like
a hunter, not just to be accomplished at it. They also taught her to ride a
horse the way men rode. They swore her to secrecy so that they could keep their
heads upon their shoulders. Aslinn being who she was, agreed and has at times
used it to get them to do things for her.
The year in Mercia was growing on Aslinn. Ties with those in neighboring cities
were strained while others seemed to be flourishing. Namely relations between
Camelot and Mercia as of late, which only meant trouble for Aslinn, left at the
hands of her mother who would marry her off the first chance she got. Perhaps
this was the reason they were called back to her father?