Post by kory on Aug 14, 2011 22:01:09 GMT -5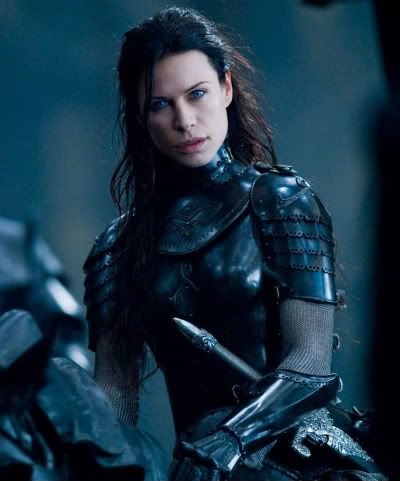 Name: Kalysta Anders
Nickname: Kaly
Age: 25
Status: Royalty, Queen of Valaria
CharacterRelation: Older sister to Kordelia Anders (Kory)
Physical Appearance:
She has long back hair. Pale skin and blue eyes. Dressed mostly of black. As is her armour and her beast to match.
Portrayed by: Rhona Mitra
Personality: She is what her appearance is, Cold. Cold as ice. She enjoys the suffering of others. Often by her hand or of her men. She also enjoys toying with her sister. Trying to best at her in many ways. As Kalysta was refused the throne even though she was the oldest. She was cursed when she was conceived and so the throne was set to be her sisters. Her younger and healthier sister. She has blamed everything that has happened on her sister and is her nemesis. She keen with a sword, but only one sword. She was never able to wield two like her sister. In most cases she gets her men to do her work and looks the part. Though she shouldn't be underestimated. She is a cunning woman, in many ways.
Family:
Father: King of Valaria (Deceased)
Mother: Queen of Valaria (deceased)
Sister: Kordelia (Kory) Anders, Princess of Valaria
History:
Kalysta was born the eldest child of the Valaria Royal Family. The first princess born in over a hundred years. Kalysta should have been courted and showed with honours. On the day she was born an rebel enemy clan attacked and destroyed the western Valarian City. Killing three thousand citizens in her name. This was in no way Kalysta's fault, for she was only an infant at present, though since the incident she was always linked to the terrible day. To make things worse, Kalysta was cursed which crippled her since she was a child. Considering her grim disposition, a contrast to the royal family's general content outlook. The subjects of Valaria hated Kalysta. As a result, though Kalysta was born as heir, Kalysta was denied her birthright to be princess and eventually queen and ruler of Valaria. This was so to maintain the respect and prestige of the royal family. Kalysta's privileges, honours and her royal style and dignity were transferred to her younger healthier sister, Princess Kordelia (better known as Kory or Starfire). Inwardly, Kalysta's rage grew and her resentment turned to hatred for her kingdom, her people, her family and lastly her sister Kordelia, who in Kalysta's eyes, made the fateful mistake of being born. Kalysta's rivalry continued and intensified when she and Kory were sent for, per Valarian warlike custom, for warrior training with the legendary warlords. Kalysta's true feeling were exposed, when during a sparring exercise she attempted to kill Kory. As a result, Kaly was expelled by the warlords. Humiliated by her own transgression Kalysta swore Vengeance and joined the rebel enemy clan, quickly rising through their ranks to become a warrior fighting against the forces of her own kingdom and ultimately her own family.
Kalysta later betrayed Valaria with detailed information about Valaria's defences to the rebels. They conquered Valaria with ease, and the surrender conditions included the enslavement of Kordelia. Kory was never permitted to return, since it would mean the rebels would devastate Valaria for abrogating the treaty. Kalysta had Kory at her command and made the most of it humiliating Kory in horrific servitude. When Kory killed one of the rebels that had attacked her, Kalysta decided to execute Kory as punishment, but not before the sisters were attacked and captured by a magic clan. Kalysta's men came to aid her, Whilst the magic clan was distracted. Kory broke free. Against her better judgement set Kalysta also free. However, far from grateful Kalysta struck her sister down. Kalysta again captured Kory for later execution. Though again Kory managed to escape until anything could happen. The great kingdom of Valaria was destroyed during the battle. It fell to much to ruins. She allowed who survived to come along with her, though not so much out of the goodness of her heart, but of what usefulness they had and if they agreed to bow to her. Kalysta's location is unknown, but she is claiming herself as the rightful Queen of Valaria.
Adoptable?:Yes...