Post by Caitrin de Archer on Feb 29, 2012 18:59:45 GMT -5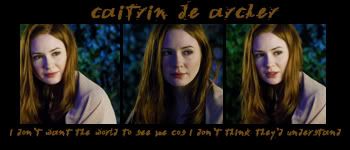 Caitrin hadn't gone to bed yet, though she should probably move from the little solar just off hers and Griff's room and try and get some sleep sometime soon. It wasn't that late in the evening, but Griff had already retired, which had surprised her, but she supposed it was warmer in the bed than out here, even though she was sat next to the fire with a blanket wrapped around her shoulders. Maybe he'd been expecting her to join him, but she didn't feel like she was in the mood for anything like that, so she'd sent him to bed disappointed, though she was sure she'd make it up to him eventually. She always did.

Running a hand over her face she sighed into her palm. She had a goblet of wine by her side, her Uncle had always told her that it would help her to keep her nerves. She needed that now, more than ever. It felt like everything was coming to the forefront of her mind all at once. Seeing her brother, and the conversation she had had with Oliver the other night hadn't helped matters. She'd tried to put the matters of her starting a family behind her, and focus on her new life here and now with Griff. However, her past seemed intent on catching up with her, and she wasn't sure how much she could escape it anymore. The raw pain which came with losing a child, one she hadn't known she was carrying until it was too late, was something which wouldn't leave her. Griff felt the pain too, naturally, so she felt like she couldn't speak to him about it as much as she'd like. She didn't want to upset him again.

It just hurt, thinking that she could already have a child in her arms, perhaps one that looked like her, or Griff. It would be a totally new life, one for them both to mould together. The child would have been so loved by both of them, but none of that was to be realised. Their child had been lost in one of Camelot's darkest hours. Not many knew about it, Morgana knew of course, she'd been the one who had caused it after all, and Griff and Rouland knew, that was it. She didn't want everyone to know, because she didn't want their sympathy. Taking a sip of wine, she felt a tear roll down her flushed cheek. She wiped it away like it was nothing, she refused to get upset about this again, she'd cried enough, but she knew that really she hadn't touched the tip of the ice-burg. She ran her fingers over her belly, and sighed softly. She did still want a family, and she still wanted to marry Griff. That much she was certain of. It was just hard getting past this point in her life though. The guilt which she felt just tore through her, and left her feeling guilty mainly. She should have been more careful, and thought about what she was doing instead of rushing into everything like she usually did. A knock on the door made her jump, and she was just about able to stop her wine spilling. "Come in." She called out. She doubted it would be anyone important at this hour. Instead she just rubbed her already red, and puffy eyes and took another swig of wine from her goblet. This was going to be a long night.
Tags: Yassia Dyfrène de Ailantha
Timeline: During the s3-4 gap
Location: The solar outside Caitrin and Griff's guest chambers in the castle of Mercia[/size]