Post by Caitrin de Archer on Oct 28, 2012 16:08:06 GMT -5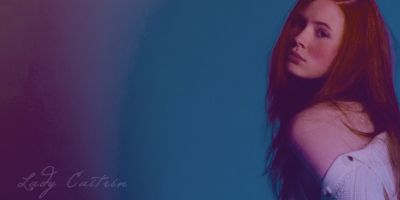 Caitrin was making quite a regular journey today to see her friend the Lady Elenora. They had been good friends for years now, even after everything that had happened with her father. Caitrin had been surprised that Nora had ever wanted to see her again after that. Since then Caitrin had practised more with her herblore, despite having three children to tend for now. She had been intending to only take Arthur and Esmae with her to visit Nora, as she thought that Alfie would have been too tired to join in with his brother and sister, but he had already had a nap that morning and was relatively refreshed, so she had said that he could come with them. She hoped that they weren't going to be too loud for Nora, or too irritating. She was fully aware of how much of a handful her own children were from others perspectives.

They had taken the carriage to get to Nora's estate; Esmae was leant up against her on the seat; Arthur was opposite her and Alfie was on her lap. Arthur was talking away to Alfie, despite getting little answer back; Esmae on the other hand kept straightening her dress down and looking out the window to see how close they were. They did eventually pull up outside Nora's estate and Esmae jumped up excitedly. All of Caitrin's children had known Nora since they had been babes in arms, so they always loved to see her. Caitrin opened the door, and Esmae jumped out, followed quickly by Arthur. Caitrin carried Alfie out of the carriage, though he began squirming when they were out of it, and wanted to walk rather than to be carried. Caitrin rolled her eyes and set him down; he was getting more and more like her. He was certainly stubborn enough.

He let her take his hand at least, and Caitrin led her children indoors, hoping that they weren't too early. She'd allowed for the usual bother that getting three children ready to go out took on her time management, but today they had all just got ready straight away and hadn't put up a fuss. She wasn't complaining in the slightest, but it wasn't something she would be relying on during every journey. "Can you inform Lady Elenora that the Lady Caitrin is here," Caitrin looked round at her children, "As are the little rabble." She grinned; the servants knew her well enough here to know she was joking.
Tagged: Lady Elenora
Timeline: After Arthur's Bane
Location: The Young Estate[/size]