Post by †Kazira Astras† on Mar 24, 2011 23:59:08 GMT -5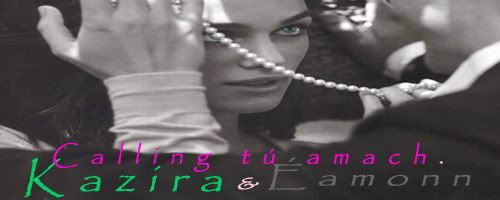 She growled at the condescending tone that he was using with her. She stopped growling after a few moments and looked at the ground hiding the brief smile that flashed across her face. She looked up at him slowly a demur smile sliding onto her lips and a heated look entered her eyes. She moved her body so close to his that she could feel all of the lithe muscle under his clothes along with his heat. She had long since rested her hands at her side but now she ran them over his stomach, his chest and loosely rested her arms around his neck. "Its not so much being called little or being called a girl." She started as she leaned her head and rested it against him. "Its more those two words together are most annoying and simply implying that i am exceedingly young like a child." After her little explanation she slammed the heel of her boot onto his foot. "Do not call me a little girl Shadow." She hissed. She realized though that she was starting to sound more cat like than she had before. It was rather impressive on her part since she was human. "But you could have just left or killed me. Then you wouldn't have had to deal with me and my 'nosy questions'" she stated easily to him acting as if she hadn't just stomped on his foot.

There she had done it! She annoyed the assassin. Kazira did a mental laugh. She wasn't sure if that was really something to be proud of but she was able to make someone who was supposed to be almost emotionless annoyed. That was a new accomplishment. She paused though for just a moment...How was she going to tell Moros? Oh he was going to be so mad at her! She could just hear him now. "Kazira how dare you do something so dangerous that you could have lost your life with! If you died what would have happened then, hm mm? Nothing cause you would be a corpse on the ground and i wouldn't have been there to protect you like a friend should!" Yeah that was not something she wanted to experience again since it was a speech that she had often heard. She head him speak and quieted down her thoughts. He thought she was trying to change him? Why? "I'm not trying to change you. That would just be stupid." She said in a deadpanned voice as she had inadvertently called him an idiot.

She giggled at him. No she wasn't scared but the image that entered her mind was not something that would spark fear in anyone. Shadow would hunt down their prey backing them into the corner and when such he stepped out of the shadows he was holding a woman in his arms. To her it wasn't all that frightening. "She buried her face in his neck muffling her giggles. After several moments of her little fit she looked up at him amusement clear in her glacial eyes. "Shadow, no offense, but you're not that terrifying with a woman wrapped up in your arms." She really hadn't said that to offend him but it was the truth. But with an 'injured' woman in your arms while you murdered someone didn't seem to terrifying to her.

She only held onto him tighter hiding her blush and her laughs. It was sad that this man found her ticklish spot as well as a sensitive spot all in one go! "I'm not ticklish at all. I dont know what you mean." She muttered suppressing her laughs but failing miserable at the soft giggles that went into his shoulder. Even though while he teased and tortured her she felt safe and comfortable with him. It was odd but pleasantly unusual but she didn't know what to feel about it. What she was feeling wasn't new to her...but it also scared her because she didn't want him to leave. She put a block on those for now. She would let things play out and she would see where they went. She wondered what he was feeling if he felt the protectiveness about her that she did of him even though he could take care of himself, very well. She smiled at his words and an almost wicked idea came into her mind. "Oh really?" She asked pleasantly as she pulled her face away from him shoulder and looked him her face flushed and all. She gave him a smile and placed at kiss at the corner of his mouth as one drew designs on his back and the other the front. She placed kisses along his jaw line and to his ear. "Are you sure I'm the one at your mercy?" She asked whispered into his ear lightly.