Post by †Kazira Astras† on Jun 8, 2011 23:49:18 GMT -5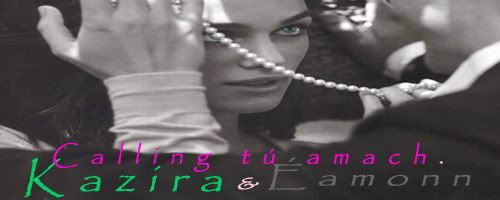 Kazira blinked at him. Was this man serious? Killing can not be apart of someone. it just wasn't possible. It was something that one did to attain something. Be it glory, value, money, and all the like. It wasn't like he was the object that was being used...Oh. She had forgotten what assassins were...They were tools for others to use at their own discretion for their own gain not the assassin. She looked down and glowered at the ground why did he have to make things so difficult!?

She clenched her teeth. But that is their decision to be the tools! While mercenaries weren't among the favored in society they did not think of themselves as the tools for others. Granted that's what any person is to a kingdom a tool a pawn. She sighed. This was just a pain in the butt thinking about the differences and the similarities. She heard him say that killing was an art form. And she had to roll her eyes. "Art? How is killing an art form? Its a way to survive. to perfect in killing is to perfect the way to die." She paused her eyes dulling."To perfect the way for others to kill you and to perfect the way for deaths fingers to wrap around your neck and welcome you to hell's gates with open arms so that the souls of those who you've killed and have never taken their rest may turn that torture upon yourself." She looked at him with curious but dulled eyes. "Tell me how is killing an art when it makes you hate the color it turns you after the act is done? How is it art when you see the lifeless eyes of an innocent person staring at you. The person you killed only because of money? The need to survive because any other way would label you as anything but a scarlet letter in a brothel with a brand?" She asked curiously. Kazira looked at him but she wasn't really seeing him. She was seeing all of the kills she made when she was younger. If was harder then...But it got easier to look past some of the faces but everyone has a skeleton in their closet and hers still haunts her and reminds her to make amends.

She shook her head slightly and blinked. "What happened?" she asked. She blacked out for a bit. "What were we talking about?" Kazira looked at him and wondered what she had said."What did I say?" She didn't black out like that and it worried her.It was different and the feeling was-- uncomfortable. Like she had said things that she wouldn't normally have said to anyone's face unless she was dreaming. She shrugged. Oh well couldn't have been to bad.

She smiled at him. "Don;t worry." she looked around conspiratorially. "You're secret is safe with me." She finished placing a finger to her lips. "On my honor as the daughter of Ara... Lord Astras I will take what has happened to the grave." She stated. Kazira had almost spoke her mother's name. Arabella Quinn. She wasnt sure if his family knew of her parents first names or just their last names but she didn't want to take the chance. From what she's heard they weren't too well liked back in Ireland at the moment since they disappeared before the clan wars broke out again. She pushed back the feeling of thinking about her family and smiled at him. She couldn't get over how good it felt to be wrapped up in his arms. It was defiantly like home and she wasn't sure how she was going to go about anything in the future. But she felt that she could handle just about anything that would be thrown her way.

The blush simply wouldn't leave her face! Why? She smiled and tried to ignore the red stain on her face hoping that it would just disappear and why wouldn't it? It wasn't like he was going to make her blush again it was just not something that she was going to think about. She meant what she had said if they didn't leave now they would never make it to her camp site. And Kazira was really anxious for him to meet Moros. Moros was rather picky about the people she chose as friends heck he was picky about who she met in general! But she had a feeling that this time things would be different.

And he threw her for a loop. Again! her face flushed again and it was going to drive her batty. Kazira was More than certain her face was going to stay that shade of red forever and if it was she was never showing her face in public again! She could hunt and live in the wild and live without civilization and interactions with humans...Oh who was she kidding she was a social creature despite not liking crowded places...or people...What was she talking about again? She looked down at her dirty feet and almost winced at the condition they were in. Moros was definitely not going to be happy with her and would surely bite her for not paying attention. "But," She thought. "It was a lot easier to climb without boots on." She admitted to herself. She flushed a little darker at what she was going to do well more like ask. "Umm, if you don't mind...Could you carry me?"

Kazira had never felt so small. Not since she was a little girl and she asked her father to carry her. She looked down a little bit afraid of how he would react. Who knows he could have been joking about carrying her. Which he probably was but she had to ask; right?
(Sorry I got a bit carried away ^^ If something doesnt make sense or if you need me to change anything let me know. I kind of went poet in her little black out so it might not be "all there")